Back to news
SuperData Fortnite's 2018 brought its authors games-industry record profits of 2.4 billion dollars
SuperData is an analytical company that prepared a report on the financial successes of gaming in 2018.
The most profitable model for the gaming industry turned out to be free-to-play (F2P), with these pseudo-free projects raking in 80% of their profits from digital sales (around 88 billion USD). 62% of the amount comes from Asian gamers alone.
F2P gaming also boasts the biggest YOY rise in 2018, with profits rising an incredible 458%. SuperData believes this massive rise is due to Fortnite's fortunes.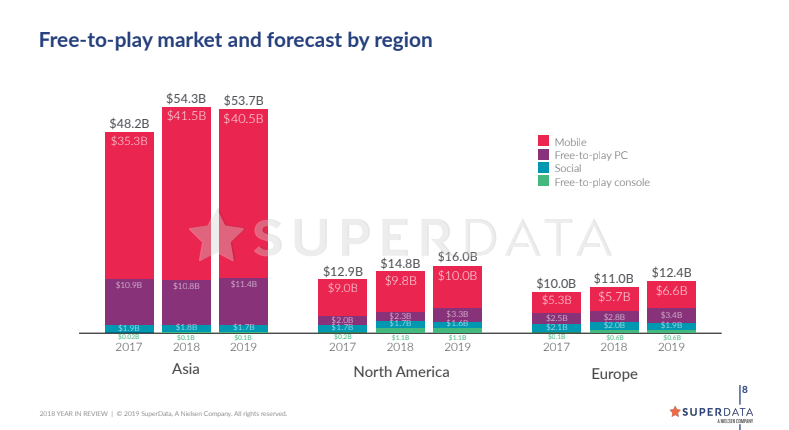 Paid gaming revenues paled in comparison, at just 17.8 billion dollars but with a solid 10% YOY rise. In this sector of the industry, Europe and North America is driving the sales, with these western regions accounting for around 80% of profits.
Amongst premium gaming, PlayerUnknown's Battlegrounds came out on top, with the game bringing Bluehole over a billion dollars. This figure also accounts for sales from the pseudo-free mobile version.
Also worth a mention is Rockstar Games: Grand Theft Auto V which is still favoured amongst gamers, even though it came out in 2013. GTA V finds itself in third place in the rating, whilst Red Dead Redemption 2 is in fifth. The western Red Dead Redemption 2 still has a lot playing time in front of it though, with it being released only in mid-December.